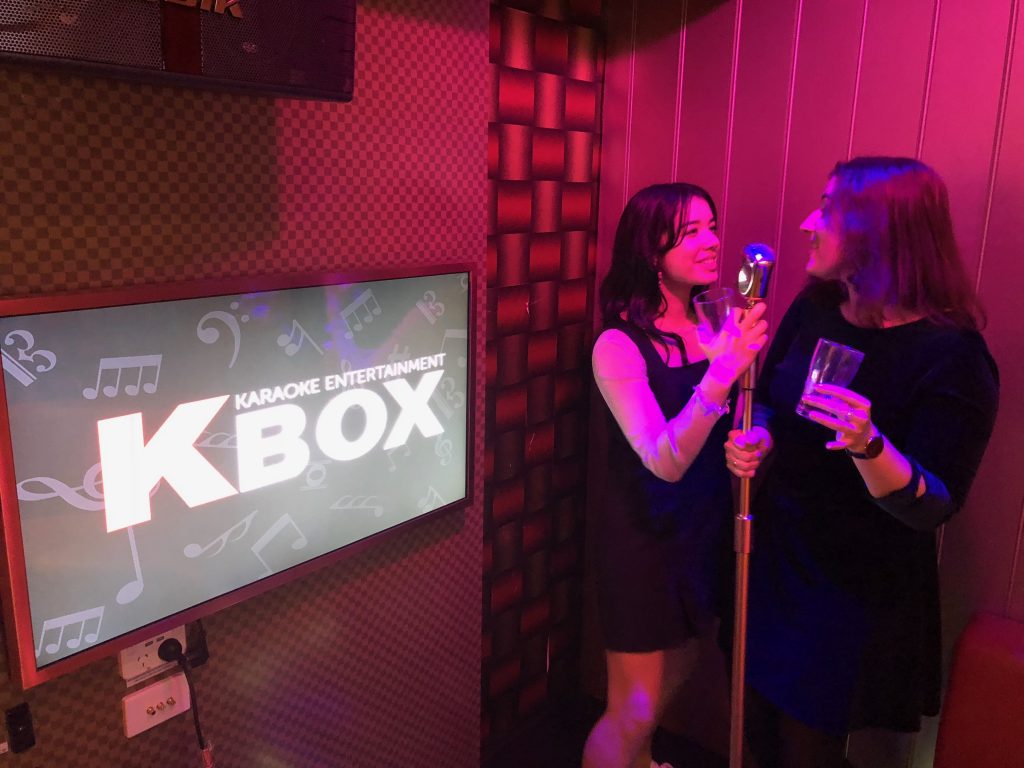 The Experience
KBOX is nothing like the karaoke night at your local pub. This is karaoke in your own private room, with a few of your best friends or favourite colleagues, over 350,000 songs (of English, J-Pop, K-Pop, C-Pop, Thai, Indonesian and Malaysia) at your fingertips. Yes, we have a very extensive songlist. Songs of all genres and various decades will be available. You can search through our online songlist page to pre-build a song list prior to arrival.
The service that you experience in kbox can be describe as warm and friendly. Drinks will be served to your room and each room is equipped with a phone for you to have a direct connection to the bartenders at the bar.
KBOX is fully licensed. KBOX karaoke can be an early warm-up for the night ahead, the main event or a 'back to mine' session after dinner. It's perfect for celebrations, team nights out, client entertainment, or just a fantastic night out with your friends.
KBOX is committed to provide fun, fun and fun and make it a great night for all.
Hen Party
The season of hen do's is kicking off! As brides-to-be across the land are breaking into a mild sweat over table plans and flower arrangements, it's up to the bridesmaids to book the ultimate hen party!
Let's be honest, a bunch of excited ladies, perhaps a tipple or two down are going to be a little noisy, and rightly so! We love noise, so that makes us the perfect destination for a pumped up pack of hen's looking to celebrate!
Cocktails, lovely service and over 350,000 songs all to yourselves in a private room where you can scream Sam Smith, shout Taylor Swift and Marry The Night with a bit of Gaga.
Here's our top pick of hen do tunes…
1) Single Ladies – Beyoncé
2) Poker Face – Lady Gaga
3) Roar – Katy Perry
4) Let It Go – Frozen (Disney)
5) Better The Devil You Know – Kylie Minogue
6) Dirty – Christina Aguilera
7) Bang Bang – Jessie J, Ariana Grande, Nicki Minaj
8) All By Myself – Celine Dion
9) Shake It Off – Talyor Swift
10) I Wanna Dance – Whitney Houston
11) I Say A Little Prayer – Aretha Franklin
12) Jolene – Dolly Parton
13) Set Fire To The Rain – Adele
14) Wrecking Ball – Miley Cyrus
15) Proud Mary – Tina Turner
16) Oops!…I Did It Again – Britney Spears
17) Valerie – Amy Winehouse
18) Like A Virgin – Madonna
19) Against All Odds – Mariah Carey
20) We Found Love – Rihanna Feat. Calvin Harris
Craving the mic after reading that list? We're not surprised, there are some HUGE tunes in there that are guaranteed to get the whole group on their feet and fighting for the mic. We have rooms for up to 25 lovely ladies, so trust us for an unbeatable night, packed with unforgettable moments and the ultimate send off to married life! Book Now.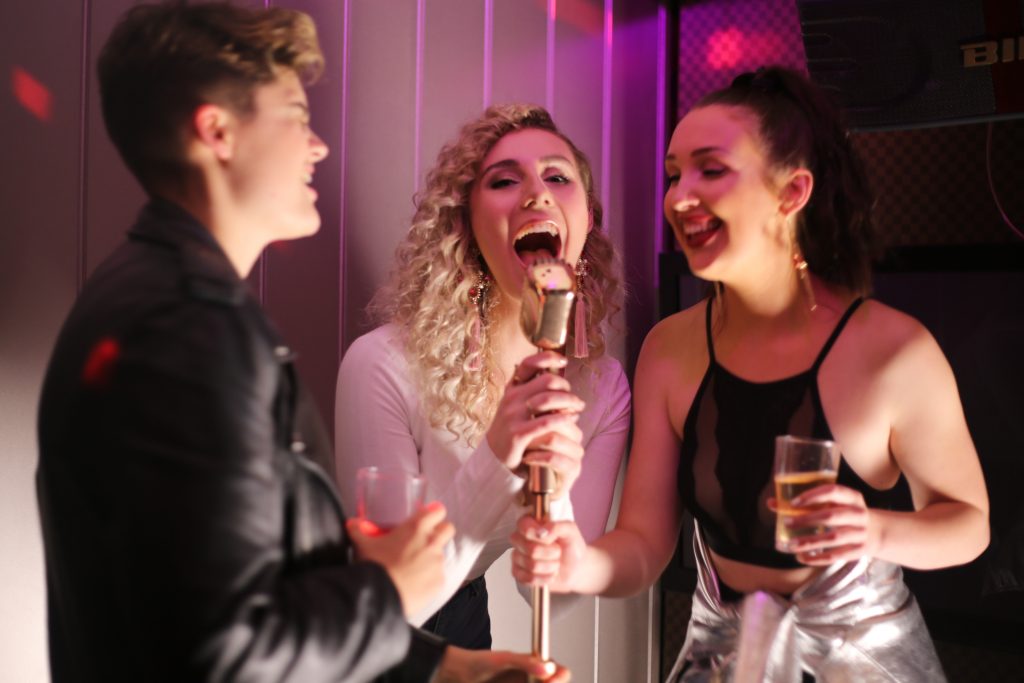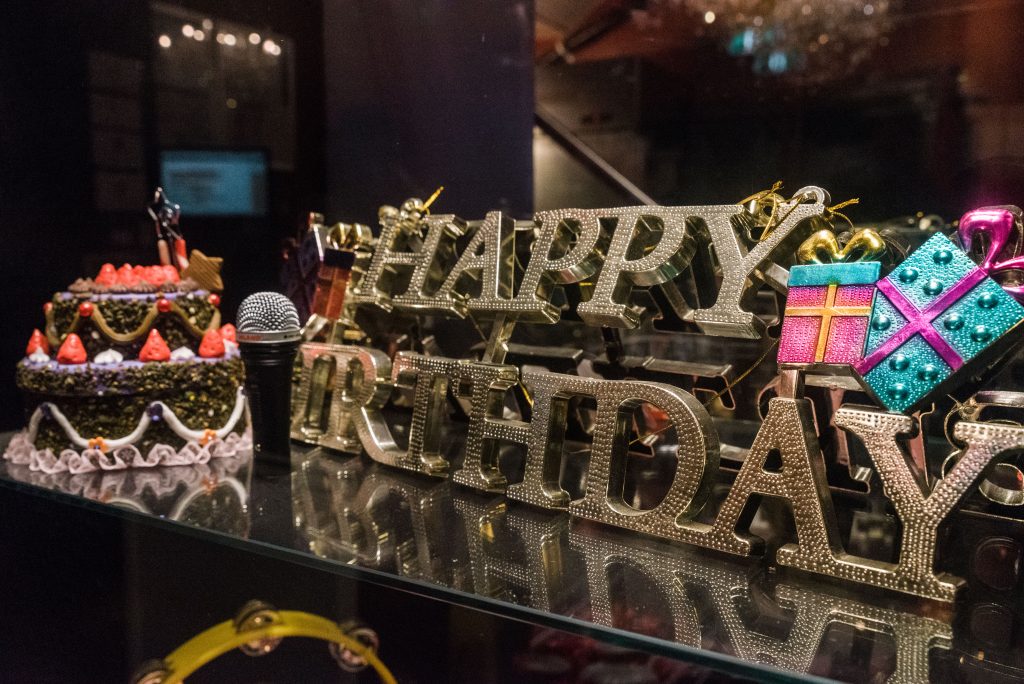 Birthday
Just what the doctor ordered
Go, go, go shawty. It's your birthday.
We gon' party like it's yo birthday. We gon' sip Bacardi like it's your birthday. Actually, we think some cocktails might go down a bit better.
We know people love to come to KBOX to celebrate their birthday in song.
There's nothing like a taste of the exotic to warm up the vocal chords and get the songs flowing.
Team building 
'Team building' days can be painful. No one wants to hold the hairy ankles of 'Keith from accounts' for a wheelbarrow race or figure out a mind-bending puzzle with 'HR Tracey' who they've never spoken to before. Say 'team-building' to most people, and they'll just think of this…
Although it often seems compulsory, 'team-building' doesn't have to be awkward, boring or dull. It's great to see Urban Golf, Ping-Pong and Office Olympics on the rise, though we think we've got the best offer. Bring your team down to KBOX for a couple of hours and you'll discover A LOT about your colleagues; it's amazing how much a microphone can reveal. It may take a song or two for people to warm up (and maybe one of our delightful cocktails), but my God it's worth it – if only to see your boss get lost in a chorus of MJ.
Here are ten things you can discover about your colleagues within two hours at KBOX:
1) Who is in the wrong job, and should be signing up to the X Factor.
2) Which team member likes to hog the mic (usually the worst singer).
3) Who has terrible music taste.
4) Which 'lad' looks dangerously feminine with a wig on (wigs are provided).
5) The colleague that turns into Tina Turner after a few mojitos.
6) Who you'll never be going to karaoke again with – purely for your eardrums sake.
7) Who the regular karaoke goer is (first name terms with the doorman).
8) Who the dominant force is in your team (will be choosing all the songs).
9) Which colleague has the ability to be heard only by dogs.
10) Who fancies who – just stick a duet on and see what happens
Hopefully you're now intrigued to find out the above, so why not suggest it as an option the next time you're due for an office bonding session. We have plenty of offers to twist your arm so it's even easy on your budget! Book Your KBOX room now.